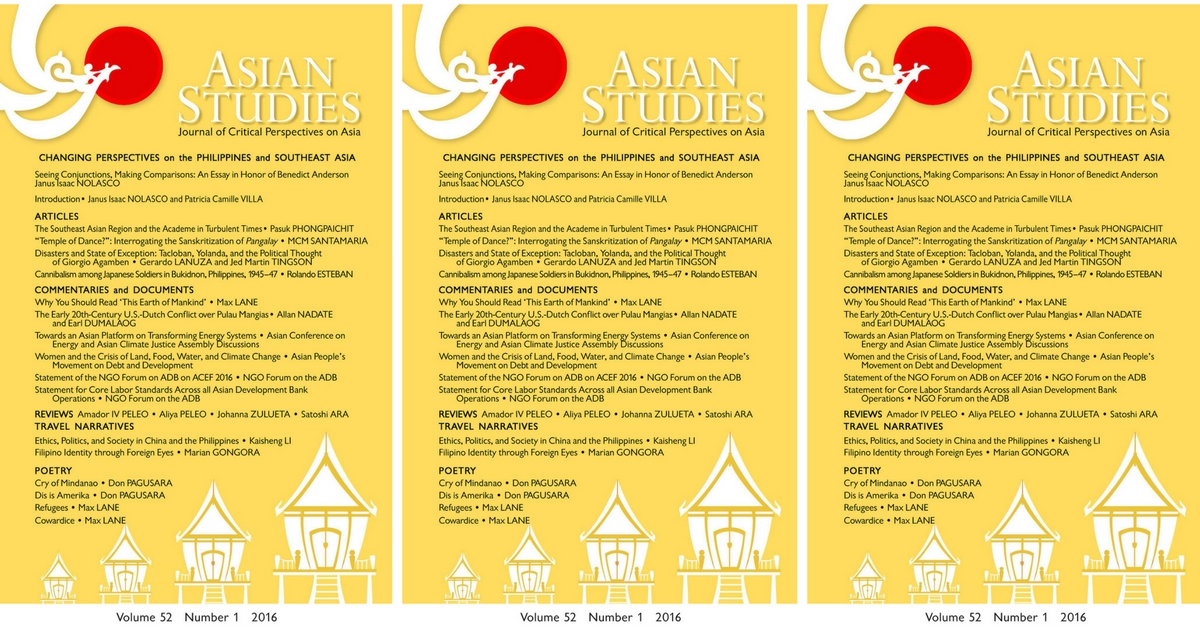 Seeing Conjunctions, Making Comparisons: Essay In Honor of Benedict Anderson***(Erratum)
Janus Isaac NOLASCO 
Introduction
Janus Isaac NOLASCO and Patricia Camille VILLA
ARTICLES
The Southeast Asian Region and the Academe in Turbulent Times
Pasuk PHONGPAICHIT • Abstract

"Temple of Dance?": Interrogating the Sanskritization of Pangalay
MCM SANTAMARIA • Abstract
Disasters and State of Exception: Tacloban, Yolanda, and the Political Thought of Giorgio Agamben
Gerardo LANUZA and Jed Martin TINGSON • Abstract

Cannibalism Among Japanese Soldiers in Bukidnon, Philippines, 1945–47
Rolando ESTEBAN • Abstract
COMMENTARIES and DOCUMENTS
Why You Should Read 'This Earth of Mankind'
Max LANE

The Early 20th-Century U.S.-Dutch Conflict over Pulau Mangias: Its Relevance to Maritime and Territorial Disputes
Allan Chester NADATE and Earl David DUMALAOG
Towards and Asian Platform on Transforming Energy Systems
Asian Conference on Energy and Asian Climate Justice Assembly Discussions
Women and the Crisis of Land, Food, Water and Climate Change
Asian People's Movement on Debt and Development
Statement of the NGO Forum on ADB on ACEF 2016
NGO Forum on the ADB
Statement for Core Labor Standards Across Asian Development Bank Operations
NGO Forum on ADB
REVIEWS
Diminishing Conflicts in Asia and the Pacific: Why some Subside and Others Don't (2013) by Edward Aspinall, Robin Jeffrey, and Anthony Regan
Reviewed by Amador PELEO

Enduring Rivalries in the Asia-Pacific (2013) by Steve Chan
Reviewed by Aliya PELEO
The Chinese Question: Ethnicity, Nation, and Region in and Beyond the Philippines (2014) by Caroline Hau
Reviewed by Johanna ZULUETA
Sakdalistas' Struggle for Philippine Independence, 1930-1945 (2014) by Motoe Terami-Wada
Reviewed by Satoshi ARA
TRAVEL NARRATIVES
Ethics, Politics, and Society in China and the Philippines: Comparative Impressions
Kaisheng LI
Filipino Identity through Foreign Eyes: Reflections of an Exchange Student in Korea
Marian GONGORA
POETRY
Cry of Mindanao
Don PAGUSARA
Dis is Amerika
Don PAGUSARA
Refugees
Max LANE
Cowardice
Max LANE
Update Log:
All articles uploaded 1 August 2016.

Introduction updated 1 August 2016, 2200; revised 10 August 2016

***Erratum (9 September 2016): the essay mentions that Benedict Anderson's ashes were scattered across the Java Sea, but they were actually placed in an urn and lowered to the bottom of the sea. A revised version will be uploaded as soon as possible.