Asian Studies 41:2 (2005) | Philippine History and Society in Retrospect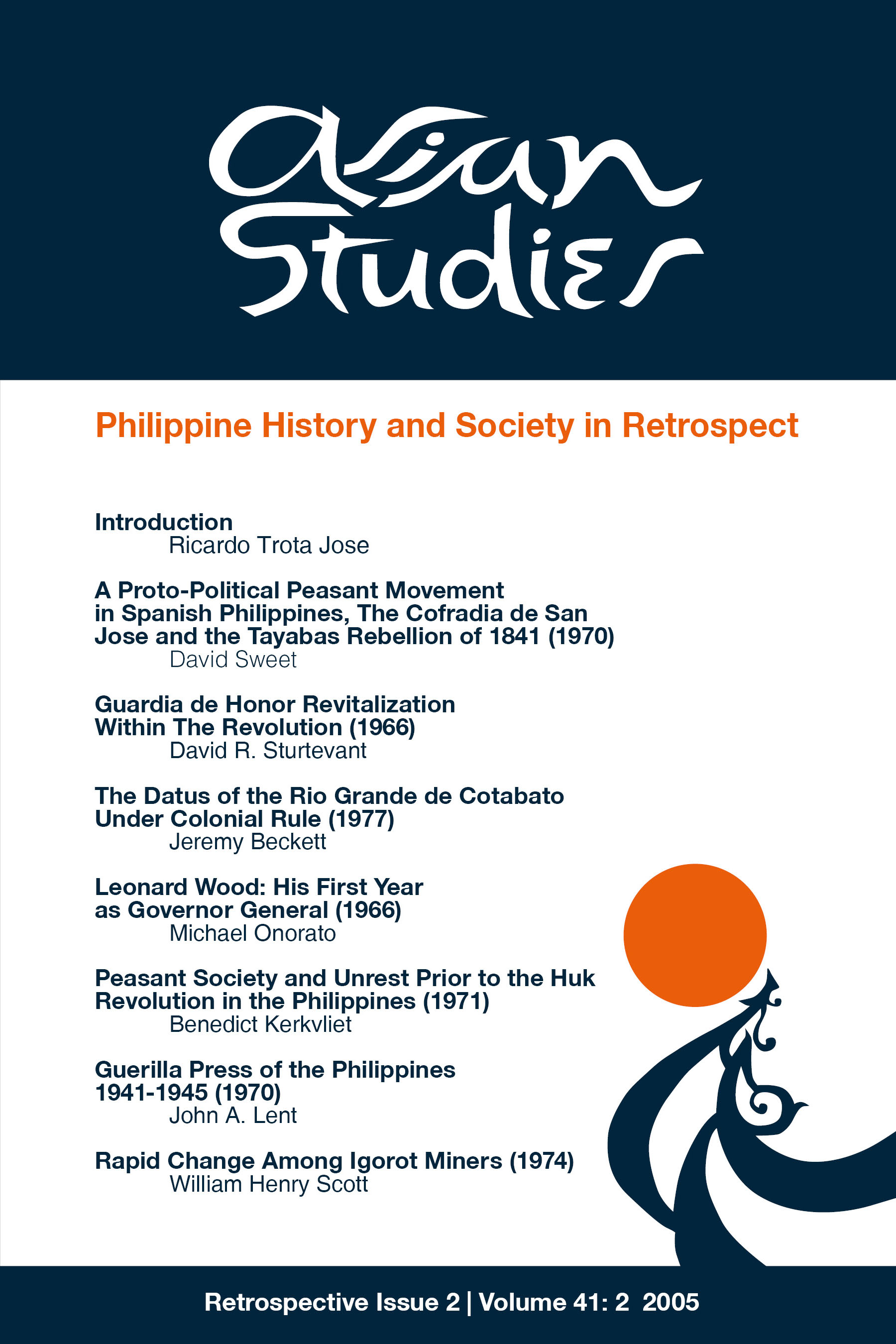 "This issue of Asian Studies is one of a series of retrospective issues featuring the best articles published in the journal over the last five decades. The papers reprinted here, written during the late 1960s and the 1970s, are some of the landmark and path-breaking works on Philippine history and society...
The collection of papers in this issue of Asian Studies set fresh standards on research methodologies and opened up new areas in the study of Philippine history and society. Unparalleled and still classic references in their fields, these papers inspired a generation of scholars. It is hoped that veteran academics can look back at these work and the historical context(s) in which they were written, perhaps with the benefit of hindsight; and that younger scholars can use these articles as a guide, if not inspiration, for their own research on Philippine history and society."
- Ricardo Jose, PhD 


Philippine History and Society in Retrospect
Introduction Ricardo Trota Jose 
A Proto-Political Peasant Movement in Spanish Philippines, The Cofradia de San Jose and the Tayabas Rebellion of 1841 (1970) 
David Sweet
Guardia de Honor: Revitalization within the Revolution (1966)
David Sturtevant
The Datus of the Rio Grande de Cotabato Under Colonial Rule (1977) 
Jeremy Beckett
Leonard Wood: His First Year as Governor General (1966)
Michael Onorato
Peasant Society and Unrest Prior to the Huk Revolution in the Philippines (1971)
Benedict Kerkvliet
Guerilla Press of the Philippines,1941-1945 (1970) 
John Lent
Rapid Change among Igorot Miners (1974)
William Henry Scott


---
 A hard copy of this issue costs Php 300 (around 7 USD)
To order, contact the editorial staff at  This email address is being protected from spambots. You need JavaScript enabled to view it.  
or call 63.2.981.8500 local 3586.